Do you have questions about your health that you can't quite figure out and just need a little advice? Do you need some help with accountability to get you to your goal of becoming the best you ever? If so, I'm here for you 100%.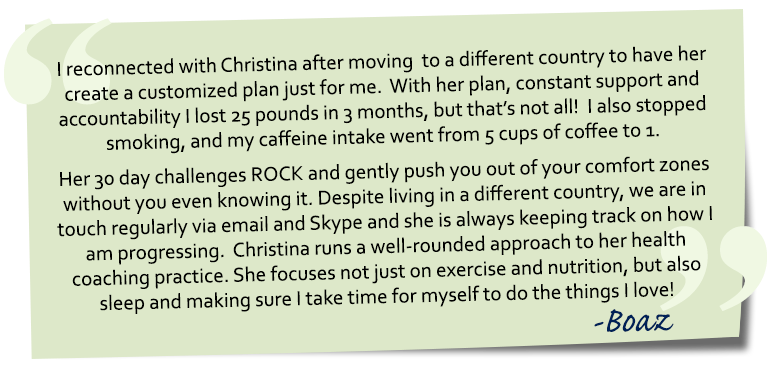 I totally get how frustrating it can be to understand what "healthy" means these days. We fixate on health being about what we eat, but being healthy means achieving balance across many aspects of our lives including work, spirituality, family, and money. These can really support us or deplete us. This is where health coaching comes in, because we look at all of those moving pieces and help you understand what you need to achieve that balance.
"I have to be honest Christina really opened a door for me. She helped me realize how addicting some foods can be especially sugar and caffeine and how they became a trigger for me. Christina made me think about what goals I wanted for myself and my family moving forward. Being more selective about my food choices, eat nature's bounty, proactively plan my meals, and continue to exercise. You were right Christina, it isn't about the numbers. I finally get that! It's about eating healthy and exercising regularly for a strong body. I'm now more aware of it because of you, thanks Christina!" -Marionette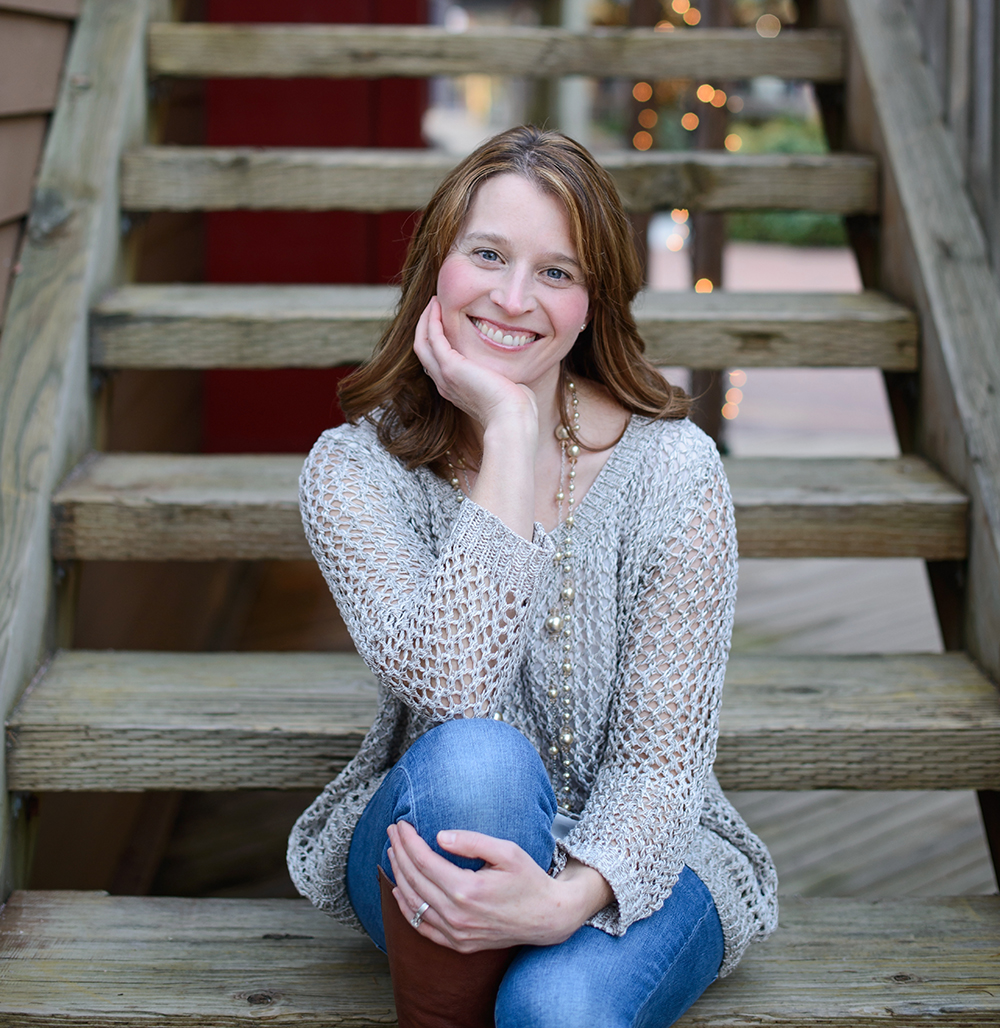 Our first step is to have a conversation that gives me a sneak peek into you. We'll talk about what's holding you back: wanting to lose weight and gaining more confidence in yourself, interested in becoming more active like a 5K and need accountability, or how to gain more energy to keep up with your family. Whatever it may be, we'll create a program that's personalized just for you (not one of those one size fits all kinds of programs either).
I provide simple and easy to implement steps through education, support, and the accountability you need to make life-long healthy lifestyle changes. By the end of our conversation, you'll walk away with action steps that you can implement right away which is one step closer to your goal.
I know each and every one of us wants to be the best person we know we can be. But it takes hard work, dedication, and stretching out of our comfort zone. Making a change in any aspects of your life starts solely with you. If you are here, I know that you are looking for someone who can help you achieve your goals. I only work with people who are completely serious about making lasting changes once and for all to your life, your family's life, and the lives around you.
Private Coaching packages
Single Power sessions – $75
Are you a DIY kind of person and just need someone to get you started on the right track.  Then these are perfect for you.  We will chat for about 45-60 minutes and you will come away with a goal in mind and action steps that you can use as soon as you walk out that door or sign off.
Power sessions (3 month program)- $325
Got a goal in mind (lose 10lbs or clean up your eating) but just need someone to hold you accountable and make sure you are moving towards you goal. Then power sessions are perfect for you. Power sessions are completely customizable and we will work together to build a time line to make sure you are successful in meeting your goal. These power session are for those who are ready to put in the effort and take on the challenge! The sessions also include my spring detox program to get you started.
Clean and Lean VIP
If you are looking right now to make a complete change in your life and have exclusive access to me than "Clean and Lean for Life" is the perfect program for you.
What you receive:
Access 24/7 to me through e-mail (24 hour turnaround time)
Completely customizable program based on you and your needs. We take a look at your current food, exercise, lifestyle challenges that you are facing now, and then create a game plan based on your new goals and work together to implement that right away so you start to see results -fast.
4 months of my clean eating program with meals and shopping list (delivered right to your inbox weekly, vegan or non vegan meals)
Access to my Spring and Fall detoxes so you can continue to cleanse your body twice a year
The first month we will meet each week and discus our action steps and making sure you are moving towards your goal. After that we will meet bi-weekly the following 3 months.
You will also learn about self-care products and removing toxins from our skin care products to create a radiant glow not only from the inside but the outside too. Contact me for price
If you aren't quite sure were to start, lets just sit down and chat and we can talk about you, how amazing is that. I'm available either over the phone, skype or one on one. Plus it's free what do you have to lose? It's going to be awesome! Click here to get started!